Guest blog post from Bluestone National Park Resort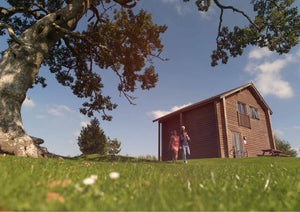 Sometimes, families just run out of puff and need a break - a place where they can spend time with each other, have fun and explore the outdoors away from the persistent pressures of modern life. We should know - we're mums and dads ourselves and have been working for families for years. We know full well holidays are a necessity - a time when families make memories that last forever.
Bluestone
is located in the heart of Pembrokeshire, the UK's holiday destination of the year, in the middle of 500 acres of rambling ancient woodland.   
Close to some of the best beaches in the world, and a boat ride away from Skomer Island - globally recognised as a sanctuary for a growing population of thousands of colourful puffins.
So, we've teamed up with Pink Lining a perfect match for our families with young children, we are delighted to announce that 14 lucky winners will soon have their very own Percy the Puffin Pink Lining Child, Mini rucksack or lunchbox.
'Percy the Puffin' will be a massive hit with your children who will enjoy carrying their favourite toys and snacks on their back in a puffin appliquéd mini-rucksack or tucking into a picnic lunch packed into a 'Percy' lunch box whilst exploring the Bluestone resort, famed for endless 'free range fun'.
Bluestone Resort is a bit luxury, took years to get right and designed with parents like you in mind. Come to think of it, that sounds a bit like Pink Lining!
For your chance to win one of our Percy the Puffin Mini Rucksacks or Lunchboxes, click here to be redirected to the Bluestone Wales website.
Leave a comment
Comments will be reviewed before being shared with the community