London Fashion Week - Mum Style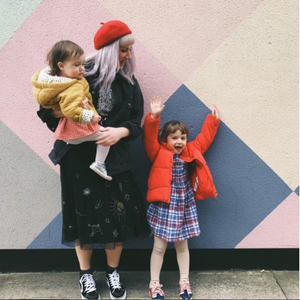 With London Fashion Week starting today, it got us thinking about parents fashion. There are a lot of misconceptions out there that once you become a parent, all sense of style goes out of the window and is replaced by practicality. But why can't there be both? 
With well known bloggers, such as Dress Like a Mum at the forefront of trying to dispel these stereotypical bad style perceptions, we spoke to another fashion savvy Mum blogger, Becky, from Mother Like No Other to get her thoughts on fashion, combined with the hard job or parenting and her reasons for starting the incredible brand, Mother Like No Other.
What are your favourite go-to wardrobe pieces? Midi skirts and cosy woolly jumpers, I also love a jumpsuit! 
Describe your fashion style. I'd say it's pretty eclectic and really depends on my mood. Some days I prefer more minimal, oversized pieces and others I like vintage, floral and busier outfits. 
Who are your fashion icons? Wow, what a question! I wouldn't say I have one particular style influence. 

Who are your favourite brands and why? I love Monki, oversized fitting, great patterns and styles, and a good high street staple. I also love Weekday Stores, Arket, and Cos for more minimal simpler style and if I'm looking for a floral dress, I start with & Other Stories or Sister Jane as their size and shapes work well for me.  

Do you feel your style has changed since becoming a mum? Not a huge amount. I'd say day to day I'd go more practical and if I'm totally honest my skirt length has increased as no one wants to see my undies when I'm grappling with a toddler who doesn't want to stay in the buggy!  

Have your shopping habits changed since becoming a Mum? Only that I tend to shop more online than in store. Navigating shops with a buggy and two very busy children isn't always the most fun, plus I spend so much more as I end up purchasing tantrum prevention tat too! 

Do you feel people think Mums and Dads dress differently once they become parents? I guess some do and some don't. I'm not aware of anyone that I know of that has changed style. That's not to say nobody does though. 

What do you think the perception is of how parents dress? I'd say there is an association of dungarees and stripy tops with mums, but that's not surprising really as they are so comfortable, classic and very practical! So I guess you could say that some parents dress more practically, plus who wants to get remnants of children's food, snot and drool on a top that cost them more than a days salary! 

Do you think the High Street offers enough stylish maternity clothing? There is definitely a limitation of what's on offer. Very few shops offer any maternity wear at all, and what is offered is very generic. If you do have a particular style you'd like to maintain, it can be hard to be expressive and be yourself! 

Are you an online or in store shopper? Unfortunately I'd say more online. I really do miss a full shopping experience, touching fabrics, and trying things on, but with my work schedule and school runs, I just wouldn't have time! And of course because of my answer above! 

What were your reasons for starting Mother Like No Other? It started back in 2016, because I always felt a bit of an outsider. Our approach to parenting was very different to our friends and family in the beginning and I often felt a little disempowered because of it. I thought if I felt this, others may do too, and I really wanted a way to show solidarity and reassurance for those that need it. The core message of Mother Like No Other is to empower, support and reassure all families that we as parents/carers and our children are all wonderful and unique - and that no matter how we choose to do things, we should feel free enough to parent and care in the way that is right for us.
I do this through creating carefully designed slogans and placing them on useful, regularly used merchandise, that will act as reminders and reassurance when they are needed most.
Follow Becky on Instagram
here.
Leave a comment
Comments will be reviewed before being shared with the community