Mum To Be Presents for Christmas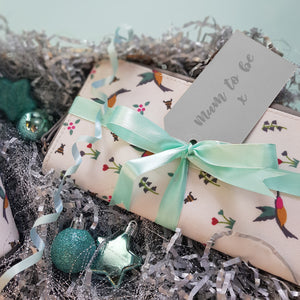 There may be some morning sickness, there may be swollen ankles, or a strange desire to eat pickles with ice cream, BUT there are also Mums to be presents!!  
Whether attending your favourite Mum to be Baby Shower, looking for a little something for her, or just investing in some essential but oh-so-pretty kit for yourself, look no further than Pink Lining
All Mums To Be will need a Nappy Changing Bag and Pink Lining's multi-Award winning ones are just the best because they combine really good looks with practicality - in other words they do the business whilst looking fab!  The exterior is not only covered in our exclusively designed and eye-catching prints, but is water resistant as well which let's face it with the British weather is no bad thing!
If she's a Londoner through-and-through then consider the Notting Hill Tote or if she loves metallic and you simply think she's the 'Bee's Knees' then we have the perfect bag for you, or if she's the more sporty type the Wonder Bag would make perfect sense.  Whatever your Mums to be taste, Pink Lining's fabulous collections offer the perfect mums to be presents. 
Lots of Pink Lining bags have witty slogans or applique patches to create that extra special feel, all of them have the most carefully thought out interior.   
Look inside a Pink Lining bag to not only be greeted by a mood-enhancing bright pink but a place for everything so you can put everything in its place. Dividing pockets and pouches for nappies, wipes, nappy sacks and creams, plus a change of clothes for baby if need be and of course a wet zip bag for things that need to be kept separate.  Mums to be will love this attention to detail, plus the thick padded changing mat, and Mum to be essential mobile phone pocket, pen holder, detachable mirror and key fob to prevent any more scrabbling around at the bottom of the bag for your keys.
But it doesn't stop at the bag, oh no!  Pink Lining's ranges will have all Mums to be keen to have the matching accessories too! Who wouldn't want a matching wallet (with bright pink lining of course and clear pouch to slot your favourite baby photo into), wash bag, stroller organiser (so useful for keeping all absolute essentials to hand in a minute) or even a Gift Card so she can splurge on whatever she fancies!
With plenty of gifts available for under £25, you can either buy something lovely for your favourite Mum to be by yourself, or club together with friends, family or work colleagues to buy her the perfect Changing Bag.
If your looking for essential items to help the mum to be in the future look no further than the Purflo Baby Nests , Baby Sleeping Bags and Swaddle Bag ranges, Your mum to be will thank you for the extra rest during nap times.
For something more practical and to keep food times mess free we suggest the Koo-di Duo Wooden High Chair. This product is really cost-effective as it turns into a toddler chair for when your mum to be's little one grows up.
Finally there is the Koo-di Playpen which is great for indoor and outdoor play.
Happy Shopping x
Leave a comment
Comments will be reviewed before being shared with the community